We both retired in the summer of 2017 and live in North Hampshire on the Berkshire border. We're active and keen cyclists. Bob used to take part in mountain bike off-road orienteering events and cycle commuted to work a couple of days a week, more in the summer. Karon cycled to work for years, every day, come rain or shine. As our cycling abilities were quite disparate, we started tandeming in 2009 with a second-hand Thorn Explorer – just to see if it did the trick. After a couple of years we concluded that yes, it did, and looked to invest in a new tandem – one that fitted us – and, for a variety of reasons, decided on a Hase Pino. It has some advantages over a 'normal' tandem – it's easier to communicate and a lot more comfortable for the stoker. The disadvantage is that it's a heavy beast, so not as 'spritely' as a normal tandem. Since buying it in 2011, we've had it resprayed and I fitted a Rohloff hub gear in place of the stock 3×9 derailers. In the autumn of 2019 I 'electrified' the bike with the addition of a Bafang Fun8 250w motor and 17.5Ah battery.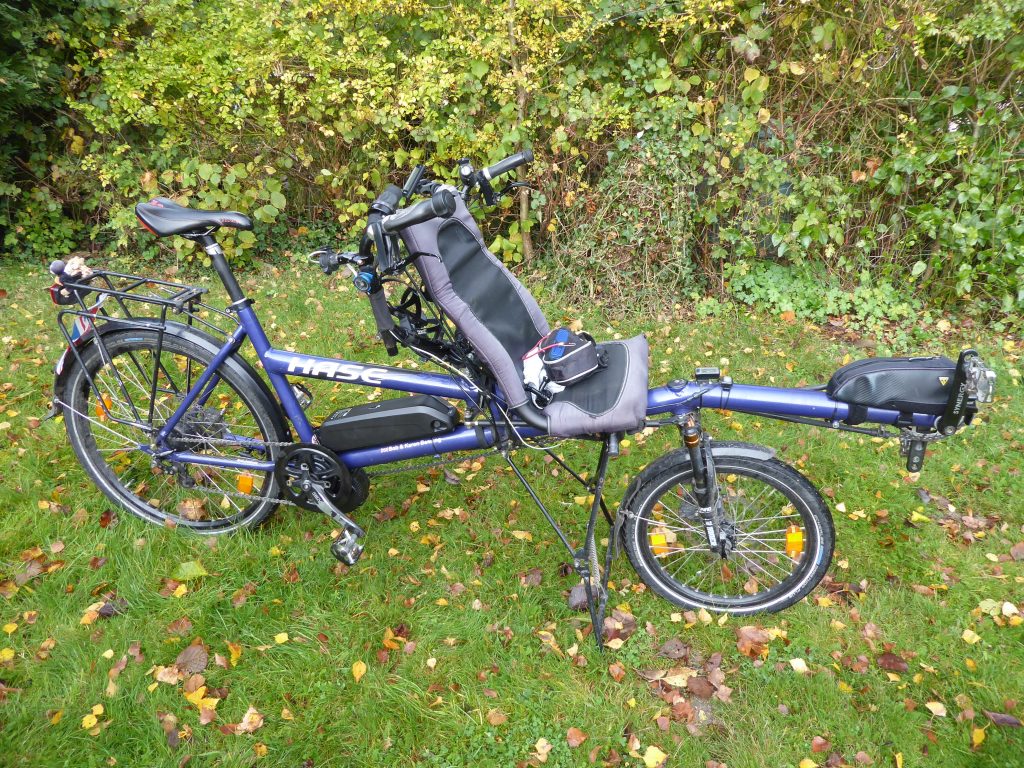 We are not fast and don't do huge daily distances, but we get there in the end. Karon has mixed connective tissue disease – an auto-immune disorder which damaged her pancreas, so she has been type 1 diabetic since age 16. Her own immune system also attacked her lungs and the lining of her heart, so she finds cycling (and even walking) up hill extremely hard. To keep her diabetes as stable as possible, she tries to follow a low carb diet, which mainly means no bread, rice, potatoes or pasta. She tries to stick to meat or fish with green vegetables. When we are cycle touring, this can often make finding a lunch or evening meal difficult, as most fast-food comes loaded with carbs, so we tend to carry a few low carb items she can eat, just in case.
Bob is the owner of a pacemaker (Dec 2018) which though it is adjusted as well as it can be, is a limiting factor when it comes to putting in sustained effort on a hill climb or sprint. So all-in-all, we are not the healthiest or fastest in our peer group, but I like to think we are cycling fit!
The Pino is our favourite, but we also have a second 'normal' tandem – a Cannondale – which is nice and light and fast for the odd sportive or 'blast' around local lanes. Then we have one or two solo bikes to add variety to our riding.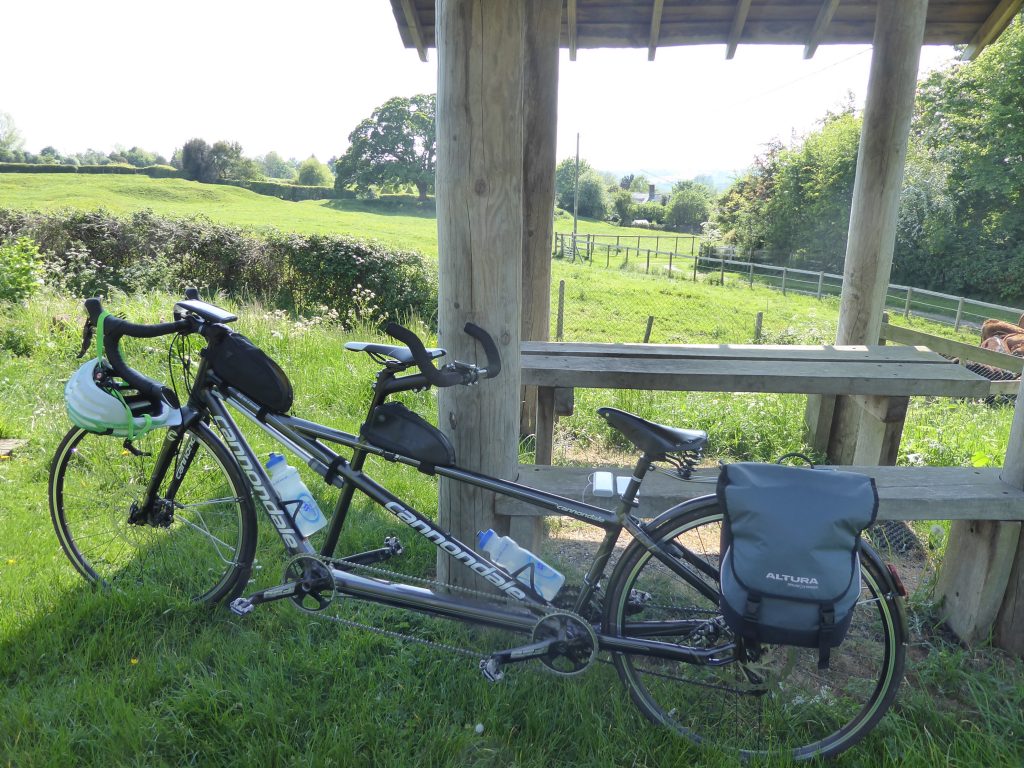 In 2012 we rode the Pino from Land's End to John O'Groats via the Lizard and Dunnet Head. We were unsupported but stayed in B&Bs, pubs and hotels. Most of our travels have been with the Pino in the back of our car and just riding out from a base, but we celebrated retirement in 2017 by cycling from The Hook of Holland (leaving the car at Harwich) to the International Tandem Rally that year in Germany. In the summer of 2019 we cycled from home to the South of France, finishing a long and hot tour in Toulouse. From there we went on to the International Tandem Rally in Marciac.
Since retirement we've been collecting 'BCQs' (British Cycle Quest) – a national cycling treasure hunt, there are six clues in each major county or collective area (like the Western Isles) with 402 in total. We are not obsessive about it, but have collected all the clues local to us, within a ride from home. We took a mini tour from home in the summer of 2018, to the Isle of Wight, collecting all the remaining Hampshire BCQs and those on the island.
About the website
I first started a website back in 2001 – after a trip to Peru, Bolivia and Chile, using an early version of Macromedia Dreamweaver to put it together. We still use the website to document our holidays and over time it has grown and evolved. So too has the software used to produce sites – Adobe took over Macromedia, Apple provided 'iWeb' with their Macs and for many years I used that. Then content management systems like WordPress came along which made things much easier. The trouble with the evolution of web software is that much of it is not really backward compatible, so when Apple recently stopped supporting iWeb, I was no longer able to maintain or update much of the site, so had to recreate the pages in WordPress.